Mohan's Musings…
Sri:
"Radhe Radhe". "Jai Shri Krishna", "Jai Shri Ram", "Jai Seetha Ram"
-- These were the words ringing in our ears all the time during our journey to UP and Gujarat.
Namaskarams to everyone.
Here, in this section, I shall attempt to recall and relive every moment of our (Viji & Mohan) trip to Bridhavan,Mathura,Ayodhya,Chirtrakoot,Naimisharanyam,Kasi,Dwaraka and Ahobilam during Dec'14-Jan'15.
"Nanri marapadu nanrandu"….ennum vakiathukku yerpa..
Both myself and Viji are thankful and grateful to Jadish Swami of Brindavan to have accompanied us during our trip until dwaraka and had had taken enormous interest in sharing a wealth of information and also taken care to put us in the most satvic places to stay and have food.
We shall never forget the hospitality of the bhagavatas in many places we had visited and in those houses where we had taken food.
I shall of course cover this side as well as we go along.
I should also wish to point out that only by repeated listening to Shri Velukkudi Krishnan Swami, Poornima ji, Shri Muralidhara swami,Sundar swami, Krishna premi swami, Shri Prabhupada's recordings and other bhagavatas upanyasams on these divya shtreams and ofcourse our association with Chinmaya Mission for number of years earlier in the past that we had developed a great Love to visit these places that have great importance in our history.
We, for ever are much greatful to those menioned above and to all other bhagavatas that we are involved with.
By sharing our experiences, we hope that other bhagavatas also develop the interest to visit and develop great Love for Rama and Krishna and the entire parivar.
If there are any inconsistencies observed or something does not sound right in what I had written, then when you get time, "vandu vongi en mudugula oru aryai kodunga" ..Feel free..
So, come, let's travel back…
Dec10-2014: – New Delhi to Brindavan
-----------------------------------------------------
We landed in New Delhi Airport, got picked by a driver named Banti (soft spoken nice gentleman) and started around 12.30pm to Brindavan.
(Ref: Banti Rajpoot, Tour and Travels – Tel: 9410039391/9045126424/9259773178)
There are two routes to get to Brindavan from New Delhi Airport.
1) via Noida taking the Yamuna Express Way
2) via Gurgaon passing via Palwal
Our driver took the option-2 via Palwal because of traffic conditions..
On the way we stopped to have tiffin at 'Hari Om Dhaba' at Palwal. Very nice food, of course vegetarian only. Anyone passing by do stop by here.
This place gave indication that Vrindavan was near…
How ? They use lots of ghee here in this place !!!.
Reached Brindavan around 5.30pm and checked into 'Savitri Seva Sadan', Madhuban Colony, Sunrakh Road, Vrindavan( Tel:0565-254-0880).. Rooms are just ok and we paid Rs.700 per night.
Heard Shri VKS had used 'Ananda Krishna Van' at Vrindavan in the same above locality during his visit. You can check this out as well.
Behind Savitri Seva Sadan is our Perumal temple called 'Uthra Tirupathi Balaji Mandir' (Parikrama Marg, Raman Reti, Vrindavan Tel:09219407838/09286244454).
This temple is maintained by Shrimath Andavan Ashramam.
Had dharshan of Perumal on two occasions here.
That same evening, we went and visited ISKON temple and this also had a separate guest house and vegetarian restaurant (no-onion-garlic). So for the next 3 nights we shifted to ISKON guesthouse.
We paid Rs.900 / night for stay here. Again rooms are just basic, but to us, it was good since we always were hearing the names of Radharani and Krishna chanted almost all hours in this place and had the opportunity to visit the aarti both morning and evening.
There are various ashrams in Vrindavan and many of them start Hari Nama Sankirtan as early as 3am.
So, if you are staying in ISKON, one should be prepared to do away with any early morning sleep after 3am or else stay in some other place like 'Ananda Krishna Van'.
Since around the ISKON temple and to other historic places, we had to travel through narrow street, we used battery operated rickshaws(good ones) to move about. This can seat up to 4 adults quite easily.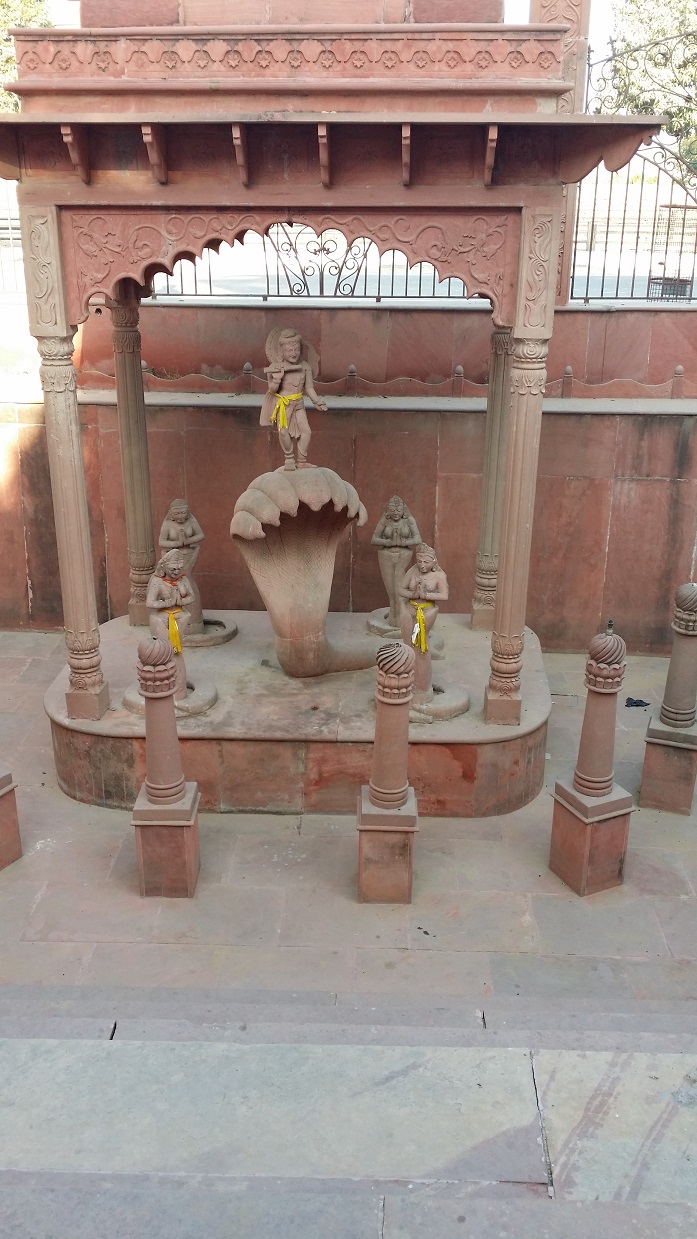 Dec11-2014:-
--------------------
The first place we visited today 11th Dec was where Krishna did Kalianardhan.That is the original tree where Krishna jumped from on top of Kalingan and to the yamuna.
In those times, Yamuna was running close to this tree, but now it has receded almost 1km from this place.
Also as shown in the image, the story goes is, Sowbarya Maharishi (what I heard was this name, but..might be slightly different) had given a curse to Garuda (since he was eating and dropping snakes) that if it comes to Yamuna Garuda's head will burst.
So, for this reason, Kalingan had taken refuge in Yamuna and after Krishna finished his Kalinga nardanam and released all nagas, they all it seems went to another dweepam near current 'Bali' and that is the reason we were told that even today in Bali they do lot of Naga worship.
Also, when Garuda was carrying the Amritha Kalas, he rested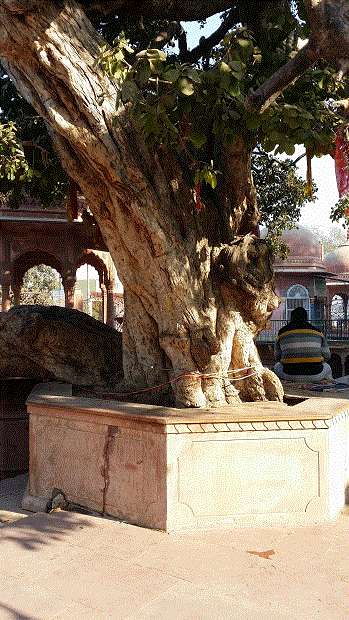 for a while on this tree and some of the amrit spilled here and so they do mini kumba mela here every 6 years.
So, for two reasons, this vriksha(tree) is divine..(1) Krishna's feet being felt all over (2) Amrit spilling on..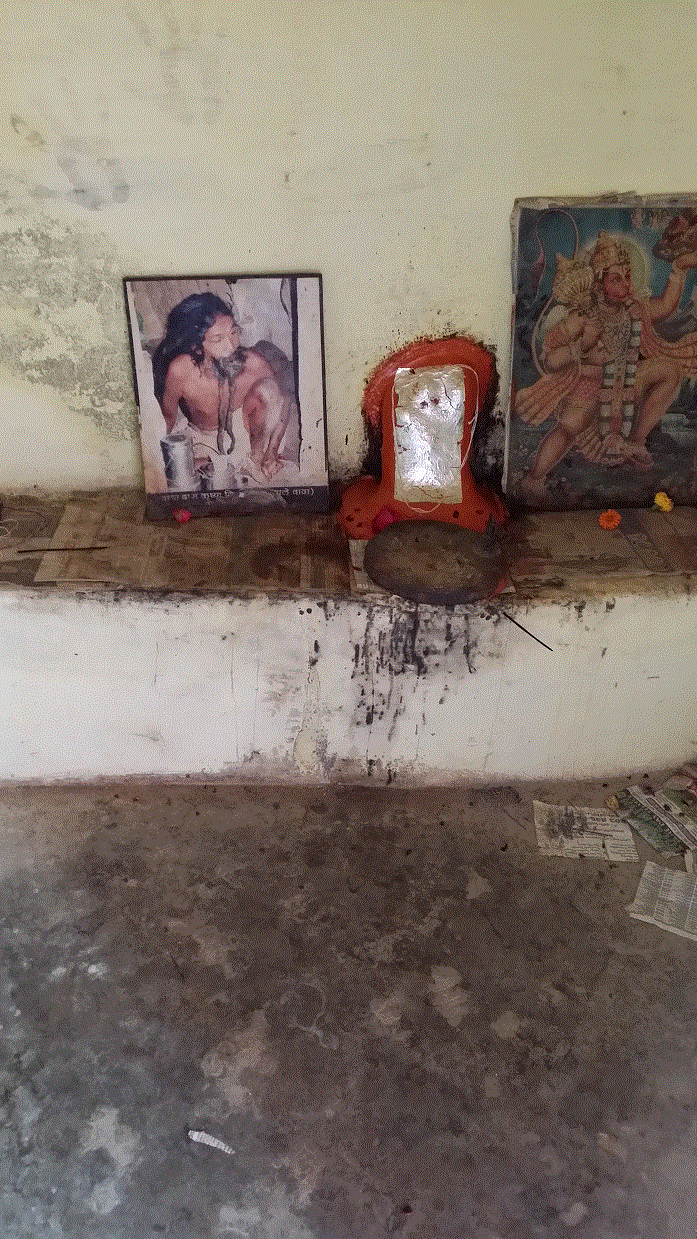 Close to this tree, I was shown a small Kutir (6ftx3ft) which was used by a mahatma called Kalaibaba who it seems passed away only 15 or 20 years ago.

He was a very rich man in Bengal, but gave away all, came to brindavan and spent his last 15 or 20 years sweeping the streets and vanam's in brindavan and then in his last 5 years spent in this cave like kutir.
He never used to take bath but his body used to give only some divine smell.
All villagers around used to bring lots of tiffin carriers of food, but he used to feed all the cows and birds with those but he lived only on water. He either went and sat under the tree from what Krishna had jumped or in this cave.
The entire section of Bridhavan,Mathura,Barsana,Gokul,Kamayavan which in modern times spread over UP,Rajastan and Haryana are called as the Vraj Bhumi and those who fortunate ones who live in this divine place, the natives are called Vraj vasis.
Every inch of this entire region is so divine as Krishna has played,sung,danced,rolled and had performed so many leelas in these places.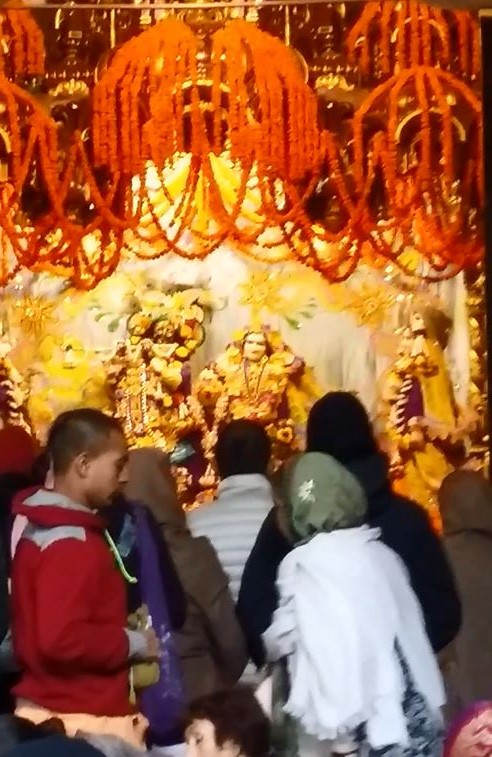 We now move on to visit the temple of 'Baanki Vihari' …Baanki, meaning bends or three-bangam.
Kannan if you look, bends in 3 places. Neck, hip and ankles and hence this name, and Vihar because he is a cowherd bringing the cows around each day to their playing/grazing fields.
Story and importance of this place as I heard it narrated by Shri Jagdish swami and now recalling those:-

Tansen was a great musician in Emperor Akbar's court and one day while he was praising Tansen for his glorious singing, Tansen commented, that this is nothing in front of his guru maharaj Swami Haridas.
Akbar who himself is a great music lover, immediately wants to meet Swami Haridas but Tansen says he will not come anywhere.
So Akbar agrees to go with Tansen to 'Nidhivan' where Swami Haridass was residing>
But about 10 miles from Vrindavan, Akbar leaves his army, takes to wearing ragged clothes and sets on foot along with Tansen.
As soon as they reach Nidhivan, Tansen asks Akbar to wait outside to go get permission from his guru, Swami Haridas.
Swami haridas, without even waiting to hear from Tansen, says, "tansen, why do you ask your friend to wait outside, ask him to come in.." and then Akbar comes in front of Swami Haridass.
Now, without even bothering to address Akbar, Swami Haridass asks Tansen to sing any bhajan and at this time tansen renders a song invoking Radha and Krishna.
Swami Haridass's glory is in whatever way he perceives the Lord, he will appear in front of Swami Haridas in that way.
So now when Tansen was singing the praise of Radha and Krishna, Swami Haridass goes into that Bhava/trance and both radha and Krishna appear in front of Swami Haridas and sit on his lap and this same divine form gets transposed on to Akbar as well who is totally spellbound.
After this incident, he asks Swami Haridass he really wants to do some Kaimkaryam, at which point Swami Haridas says to Akbar to go and clean the steps of Keshi ghat on the banks of Yamuna.
Akbar feels ashamed since being an emperor,that he is being asked to do this work, but nevertheless he goes ahead to the steps of Keshi ghat.
Before starting to clean, he feels to have a drink and bends down at the Yamuna to get some water in his hands and at that time he gets the divine vision of the steps as they are in vaikuntam with the steps in chintamani, spadigam etc.
During that time this place was a hunting ground for many kings and warriors, but after these incidents, Akbar imposes a rule that from that time on no animals should be harmed in any manner in those parts.
Till this day it is believed that all life forms from plants/animals/humans are all divine atmas in this goloka damam.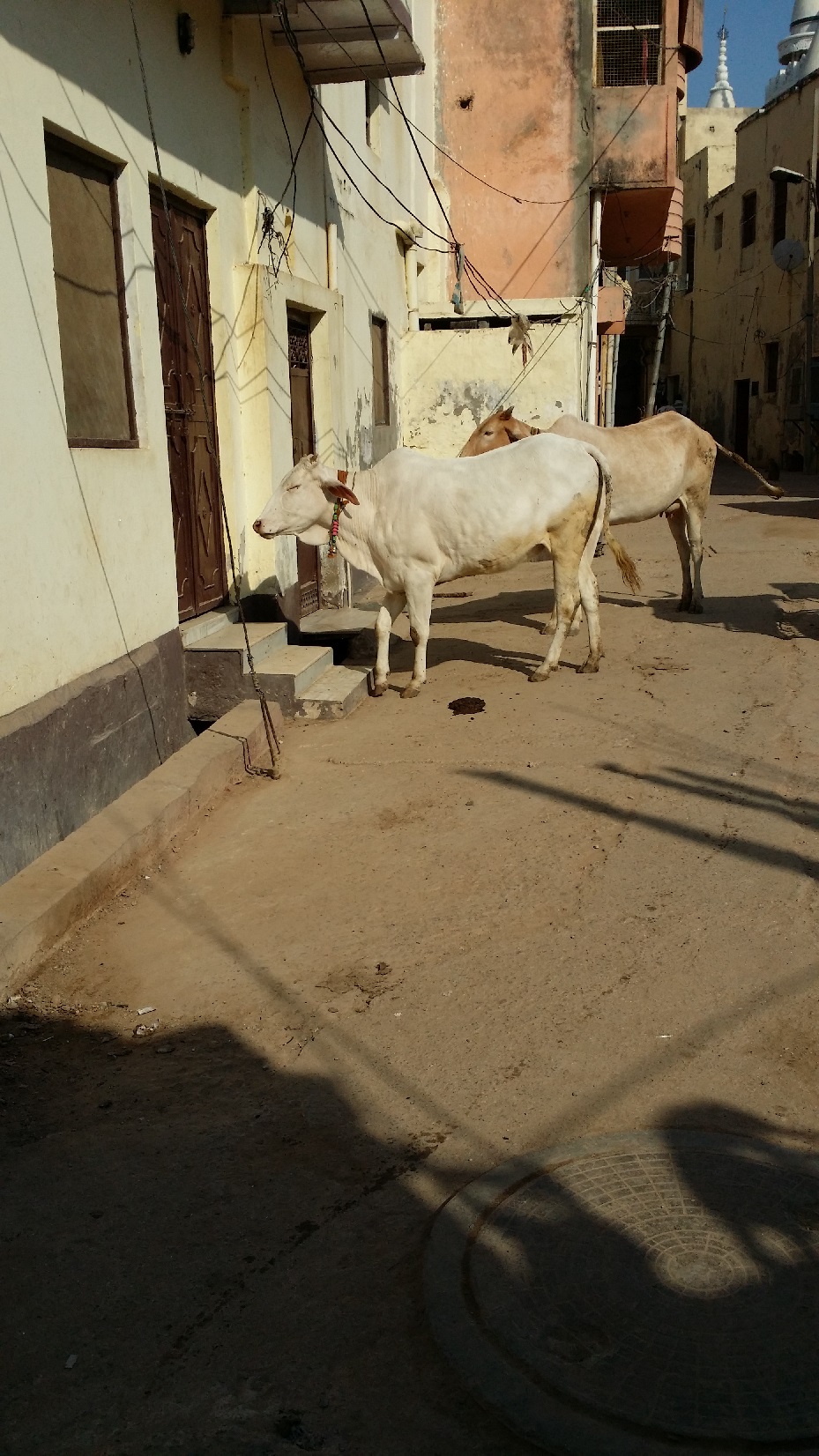 Since Sri Radha and Krishna appeared as one form to Swami Haridass, in this temple of 'Banki Vihari', below the waist they put 'pavadai' (those worn by women) and on top of the waist is Krishna's dress and they cover the feet as well.
Only on Akshya thidhi, we have Thiruvadi darshan at this temple.
We could really feel how true it was about treating all being alike in Vindavan..
No one living here beats any animals (only outsiders who don't know the significance, might do)..see picture.What this is we were told is the Cows like Chappati's and they come to houses and wait in the front each day. Some days if the housewife is delayed, she comes out it seems and tells the cows that is is getting late and to come back again later which obviously it understands, moves away and comes again later. Can't believe, but its true..Such is Vrindavan.
Govardhan("GiriRaj")…

It is said from history that Radha agreed to come down to Earth only if Giri-raj is first present.

So that is the reason Sri Krishna had sent Govardhan from Vaikuntam to the Himalayan ranges near Meru and Sumeru.

This mountain was full of caves /waterfalls and gardens and so unique that any rishi muni even if they had done tapas only for a short period of time, would get the siddhi and liberation.
Having heard this, Pulasthiya Maharishi who was from Kasi, planned to bring Govardhan from Himalayas to Kasi by his tapo balam.

In those times, mountains had wings and were able to fly…hard to imagine and believe in our times with our limited knowledge..
Indra later had taken away this privilege and cut all wings from the mountains.
Now, pulasthiya maharishi comes and requests Govardhan to come with him to Kasi.
Govardhan agrees, but on one condition that the maharishi should not stop anywhere/place the mountain down until they reach Kasi.
By any chance this happens, then Govardhan said that will be his home.
Remember this whole episode takes place in the Krita(sathya) yuga.
So both the rishi and Govardhan start from the Himalayas and while passing through Vrindavan, because of the sankalpam of bhagawan, Pulasthiya rishi gets carried away by the beauty and stops and places the mountain(govardhan) on the ground.
After some time when he is ready and comes back to normalcy, he tries to lift the mountain, but could not.
That's when Govardhan reminds the rishi muni of its earlier condition.
The risihi could not do anything but curses the mountain that every day, the mountain will reduce in size by the size of a mustard seed.
That is why the mountain which was miles and miles in length and height is only of the size found today in Kaliyuga.
Another incident from Treta yuga:-
As you all would have heard before, when Rama was trying to build the bridge to cross to Lanka, stones from all mountains were brought and on this occasion, Hanuman comes to Govardhan and tries to take one part of the mountain for this purpose.
At this time Akashvani announces to Hanuman that it is not necessary any more since the bridge has been completed and so Hanuman drops the stone back.
Now Govardhan had expected to get the Pada Sparsham of Sri Rama, is very sad that it is not going to happen anymore.
At this point in time Hanuman consoles Govardhan and says, don't worry…In Dwarpara yuga you will get both the pada and kara sparsham of the Lord.
So as you see, Sri Krishna had played all over the mountains with his friends, grazed the cows, also lifted and kept the mountain in his little finger for 7 days and protected the whole of Brindavan (yadavas,gopis,cows etc) when Indra had continuously been pouring rain and sending water as though it was like pralaya..still not a drop of water entered under the mountain…
How?
What probably one has not heard also is that Sri Krishna kept his sudharsan chakra on top of the mountain and Vasuki all round the mountain curled up to make sure water does not enter..
Indra also realizes his mistake later and recognizes it's all the leela of Sri Krishna.
This is why Govardhan is called as Giriraj, king among mountains and in those days all mountains (since they were flying) used to come and have dharshan of Govardhan every day.
As you can see, only Sri Krishna had given great importance to mountains.
Like the mountain reducing in size over the period of yugas, human intelligence and other factors as we can see are also reducing day by day.
Garga rishi(kula guru of Sri Krishna) had seen in pratyaksham all these and had written these down in the book called "Garga Samhitai". One can also read the "Saints of Vraja".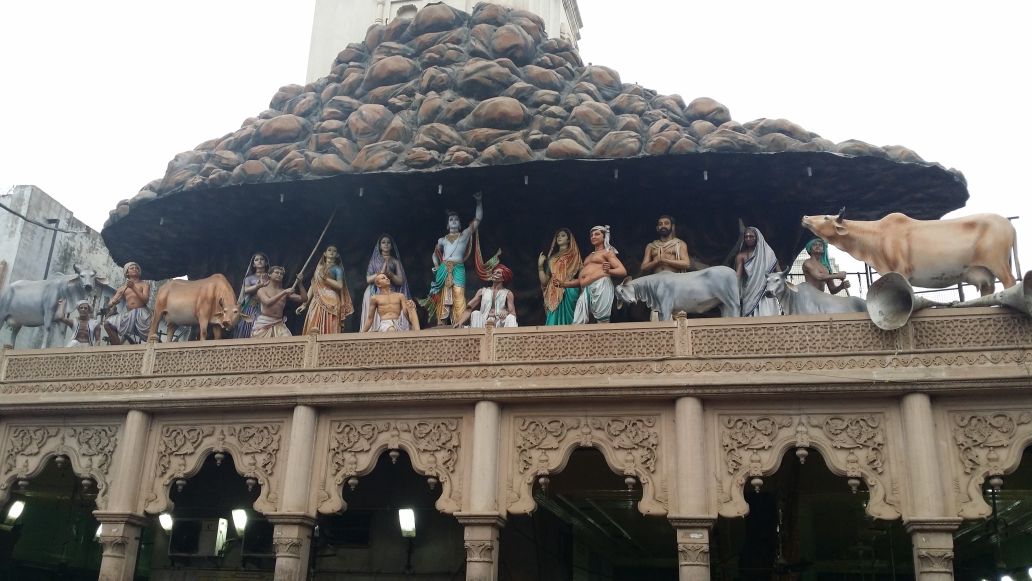 Another unique and often not heard of story about Vrindavan (called Goloka Dhamam) and Govardhan.
You got to imagine that this place Vrindavan is like a lotus flower first. That is, the stem is in water not the flower. So this Vraja bhoomi is here on earth but in a different dimension.
So I heard from people that when they do the parikrama of Govardhan in the morning, the 21km, they are able to finish within a little over 5 hours but if start your parikrama during mid-day then you seem to take more than 7 hours. So got to apply the idea of the lotus flower being closed in the morning and then when opens fully how it is and imagine the place also constantly is shrinking and expanding every day. Again, hard to imagine and believe by ordinary human beings, but only by the true bhakti and bhava is one able to understand and experience the true Vindavan which we including myself all hope that one day with the grace of Sri Radha and Krishna we also are able to see and experience the true Vrindavan in our hearts.
..to be continued…